Customer Experience Survey Results for 2017 and 2018.
In 2017, Capital Resources began surveying each new and existing customer who obtains an insurance agency loan from us. The results have been overwhelmingly positive. The survey is intended to better understand how we may improve our workflows, products, and gain a better understanding the needs of our current and potential customers.
Aside from appreciating the positive feedback, we've taken the opportunity to improve our organization through listening to our customers by reducing some of our regular reporting requirements and streamlining the loan approval process.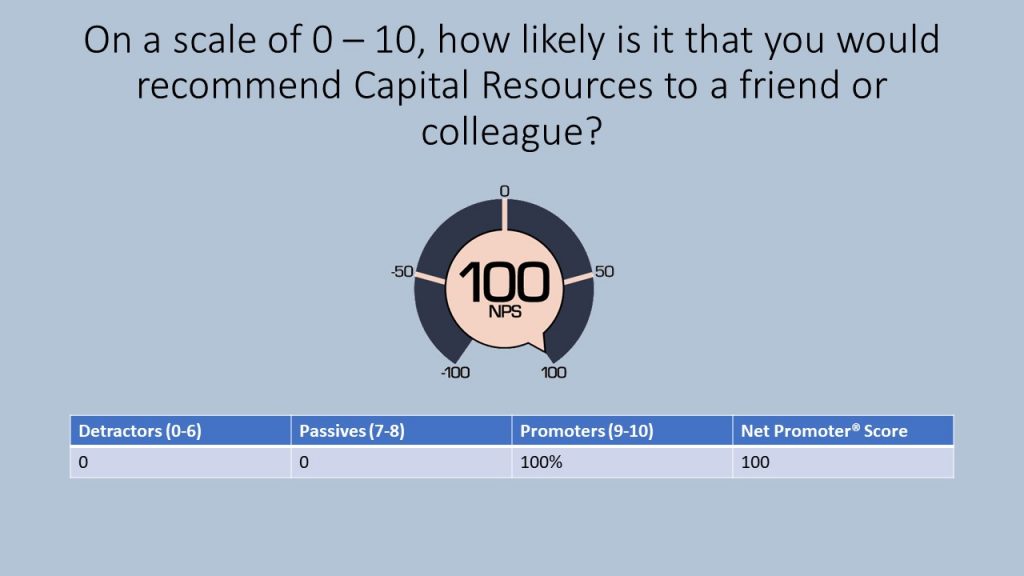 When considering a loan for your insurance agency, one of the most valuable resources available to help you choose a lender is your peers. Of those surveyed, who responded, every single respondent said that they would highly recommend Capital Resources to a friend or colleague.
 "I refinanced my business with Capital Resources and was highly satisfied with the experience. The process was very quick and I was kept informed every step of the way. When I had a question, my call or email was always returned promptly."
– Allstate Insurance Agent, Florida
"Tom Sanders is awesome, been using him for 10 years. He never disappoints and is the fastest loan originator in the business."
– Allstate Insurance Agent, New York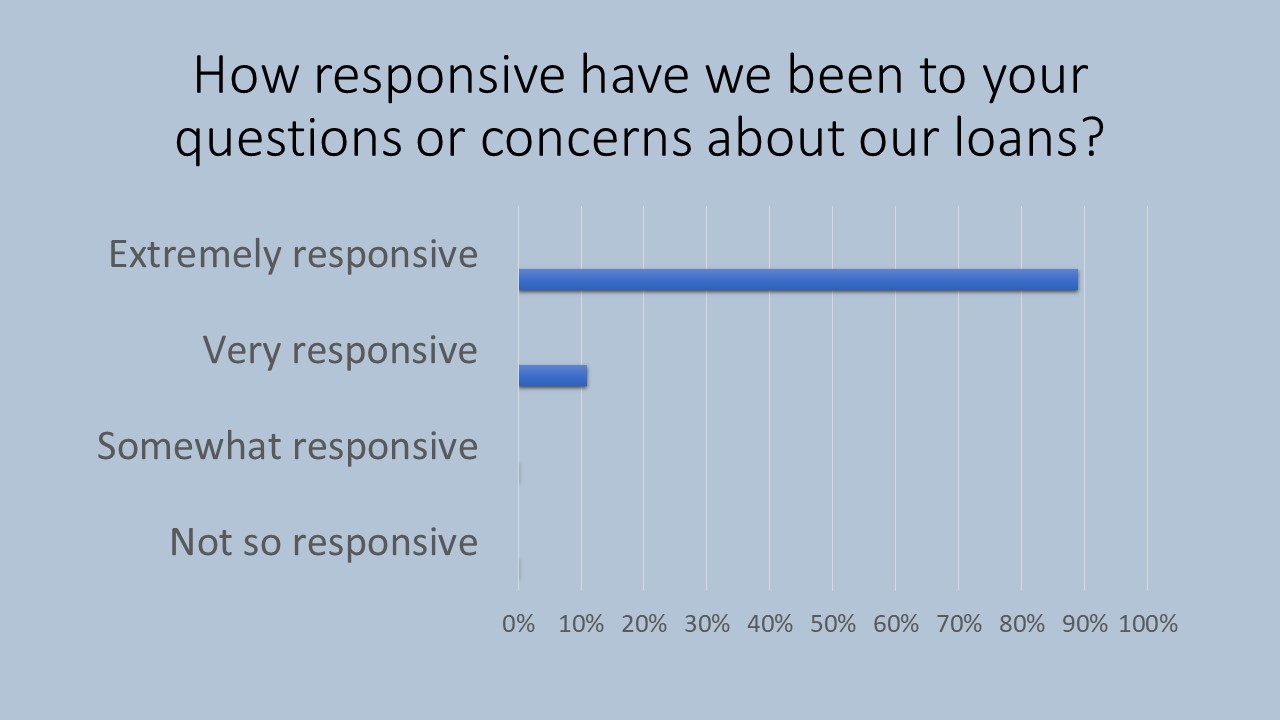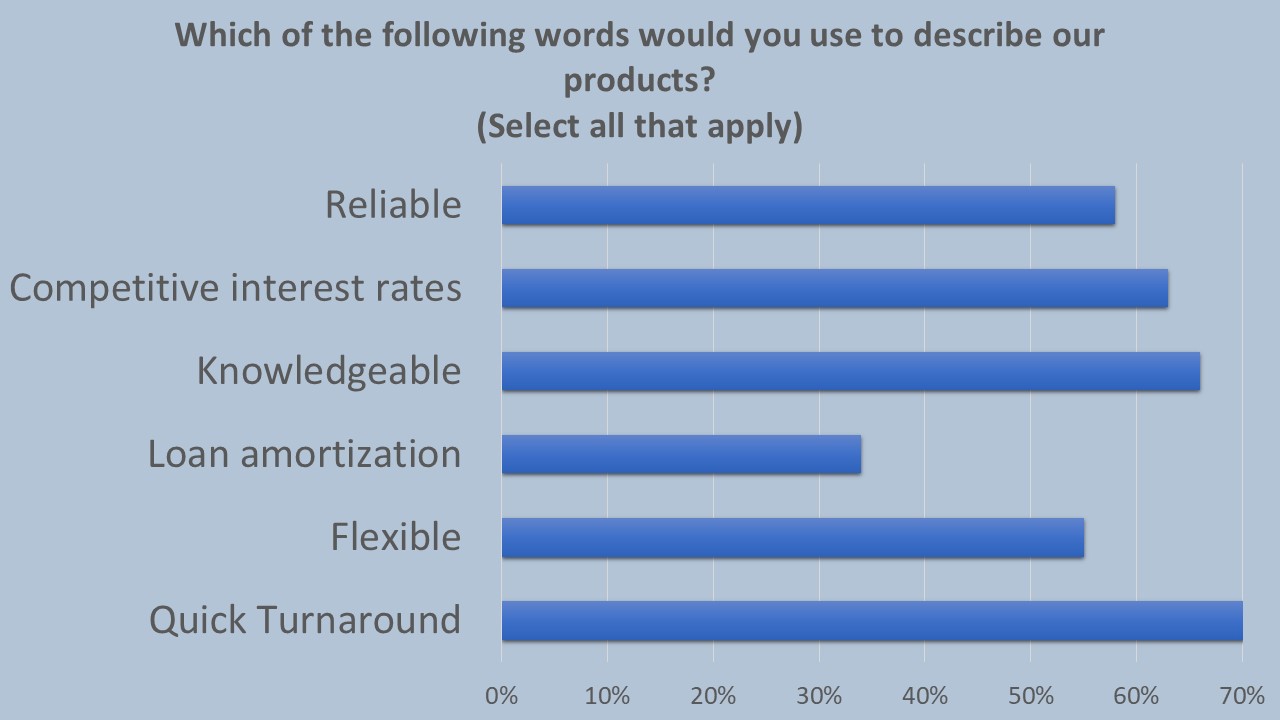 When asked, nearly all of the words/phrases used to describe Capital Resources and/or its loan products are positive. It is worth noting that in the actual survey each positive choice had an inverse and opposite option that could be chosen. We are happy to report that those were not illustrated because there were only three negative remarks in two years. We continue to strive to bring that down to zero.
"Mitch was great!. We closed within 20 days, including weekends, from when we first spoke. He made it quick and easy."
– Allstate Insurance Agent, Florida
Thank you to all of our great customers who took the time to complete our survey. We thank you for your continued business and for the opportunity to help serve your lending needs. To those currently contemplating a new loan or refinancing an existing insurance agency loan, we hope that you will give us the opportunity to be your reliable, knowledgeable source for flexible loans at competitive interest rates with competitive fees with a quick turnaround time.
"I was looking at two different finance sources regarding my Allstate business. I chose Capital Resources due to the speed and efficiency of the process. Everything was done within a week! I would highly recommend them."
– Allstate Agent, Florida
"Very easy process. Tom made it a smooth process and helped me get the right solution for my agency."
– Allstate Insurance Agent, Florida
"My loan officer Mitch was very knowledgeable and efficient. I look to do more business with him in the future and will refer him to other insurance agents."
– Allstate Insurance Agent, Mississippi

How Do Lenders Define Risk? The primary consideration for lenders when evaluating a new insurance agency loan is risk. If you are considering a loan for your insurance agency, it is important to understand how most lenders perceive risk. Often, lenders discern risk...
read more